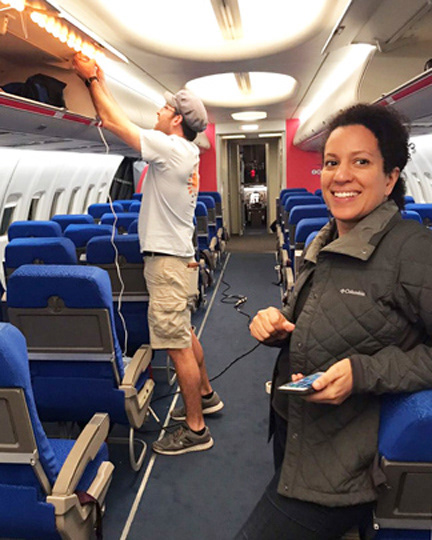 Aiyana on the Airplane set of LA to Vegas
Aiyana Trotter has been designing for television, film, and theatre for the past 15 years. Currently, she is the Production Designer of the Fox Network comedy, LA TO VEGAS. Her work has been seen on several award-winning films like Jennifer Phang's ADVANTAGEOUS (Sundance Film Festival Special Grand Jury Prize 2015) and Tina Mabry's MISSISSIPPI DAMNED.
             Ms. Trotter has honed her craft working in the Art Department for network television shows like AGENTS OF SHIELD and UGLY BETTY. She has art directed two seasons of the Emmy Award-winning comedy, MODERN FAMILY.
            A native of Portland, Oregon, Ms. Trotter studied theater and dance at the Jefferson performing arts high school and toured with the Student Acting Ensemble.  She went on to study Environmental Design at Hampshire College and later earned an MFA in Set Design from San Francisco State University. 
            Ms. Trotter enjoys volunteering her time advising filmmakers about the art and craft of Production Design.  She has been an Artist Mentor for the Project Involve Program of Film Independent, and has worked with students from the Art Institute of California, San Francisco State University and Los Angeles Valley College.